STUDIO57
interior design
');
Retail design for garden shop "Garden Quarter"
Design project of a garden shop in Provence style. 10 visualizations. Fashionable interior of a modern store. Natural materials, dark colors.
    "United Company" is a modern diversified company whose main profiles are: filling complex, network of garden centers, Cafe chain Salad Drive, Shopping centers IMMI, wholesale and retail trade. When such a large network approached us for design, our team knew that not a single company in Belarus had done such projects. Retail design of large companies rarely trust Belarusian designers, so the design project for the Garden Quarter was very important for the studio.
    It may seem that the design of the garden shop is an easy task. All that needs to be done is to arrange everything in the price category and this is enough, because the product itself attracts much attention. Therefore, many sellers of such stores make a mistake and do not even try to make the interior of the store interesting and beautiful, making the premises unnecessary things in the form of boxes with tools and decorations. However, if you take the design strictly, you can not just create a fashionable and spectacular shop, but create an entire empire in which a person is not able to think, but just wants to do the same in his garden. Therefore, this task was set by our design team.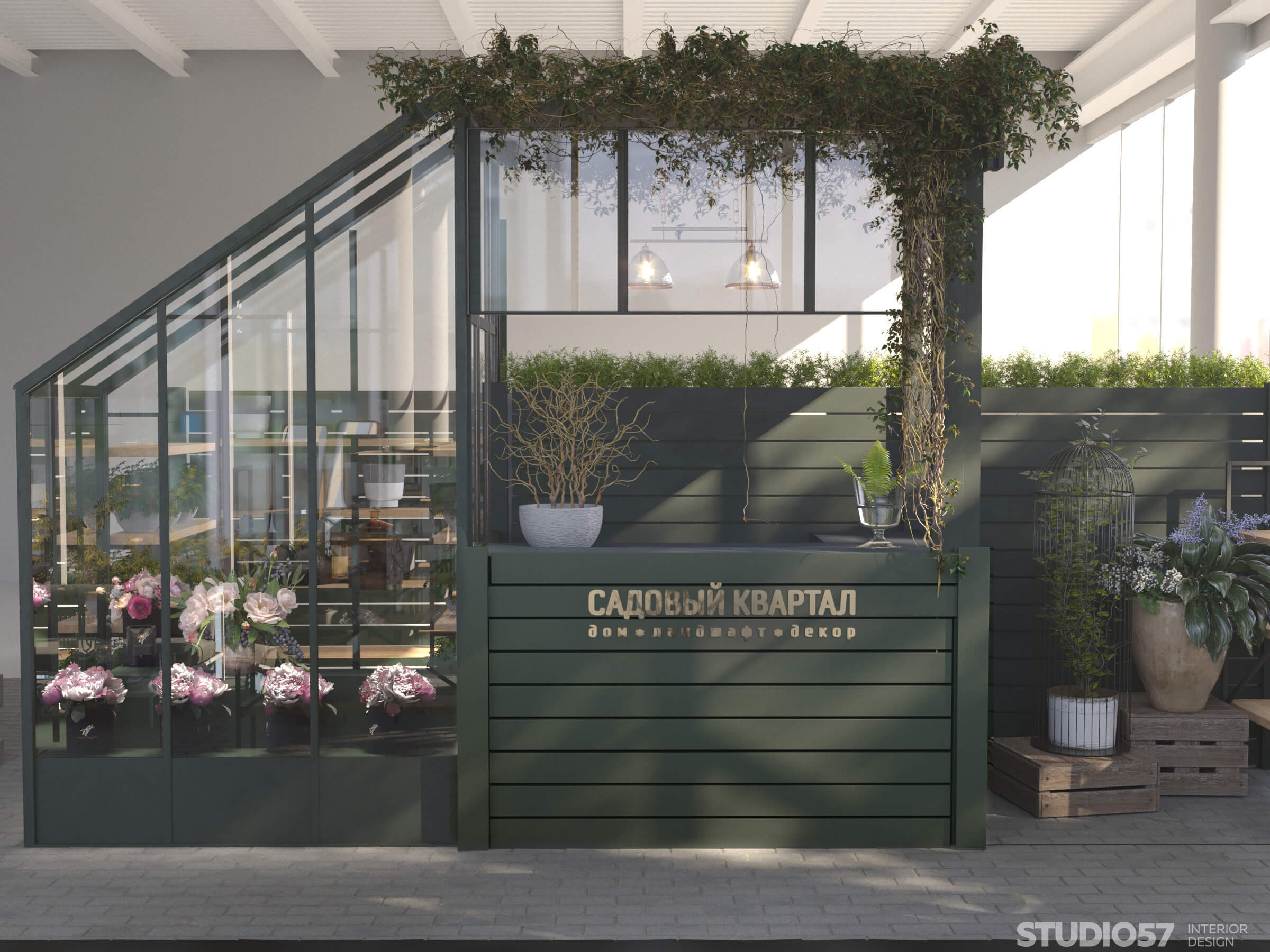 Visualization of the shop window. View 1.
    At the entrance there is a stand decorated with vines with a store logo that immediately meets the visitor. Designers used lianas in their design project to create the atmosphere of nature as much as possible. A glass showcase with bouquets and boxes as shelves remind the buyer of the street of Paris with mini stalls with flowers along the road.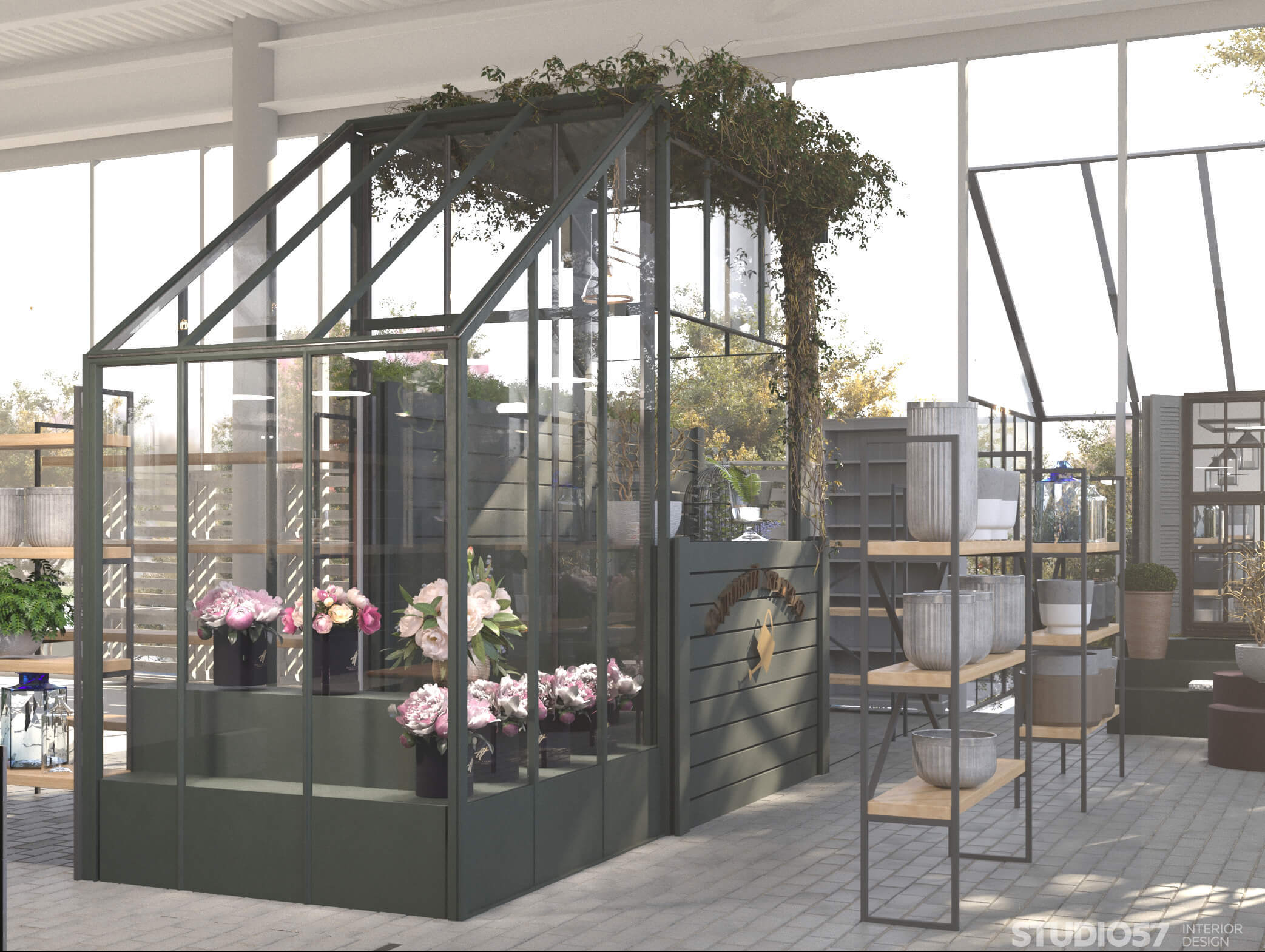 Visualization of the shop window. View 2.
Visualization of goods. View 1.
    The interior of the garden shop is made in dark colors: the product looks most impressive against such a background. The designers of Studio 57 faced a difficult task: it was necessary to correctly plan the room, since not only plants and furniture are sold here, but also decorative elements. This was done with great care: everything is organized and arranged in zones in the store, so that customers do not have to be confused or look for the necessary goods for a long time.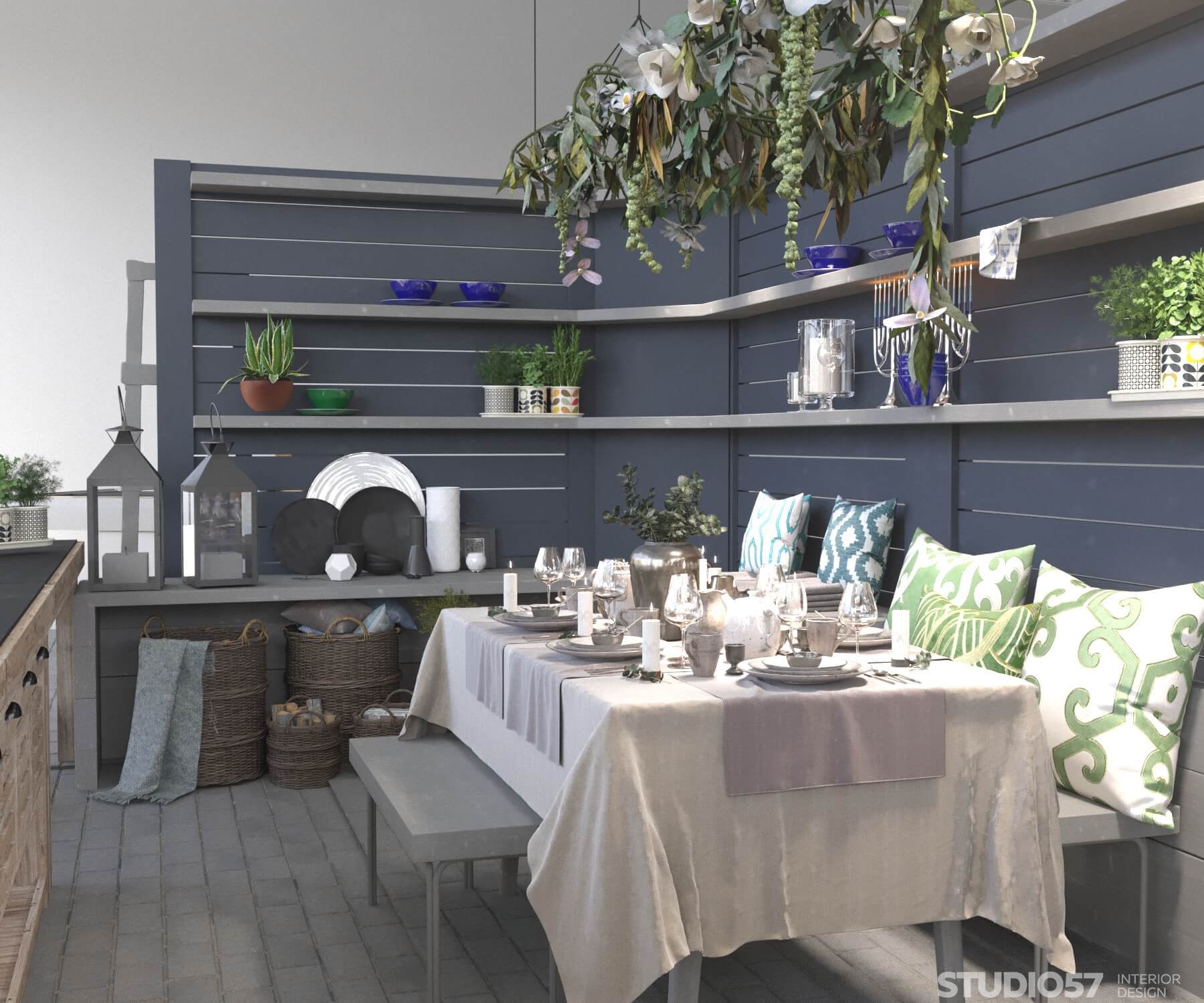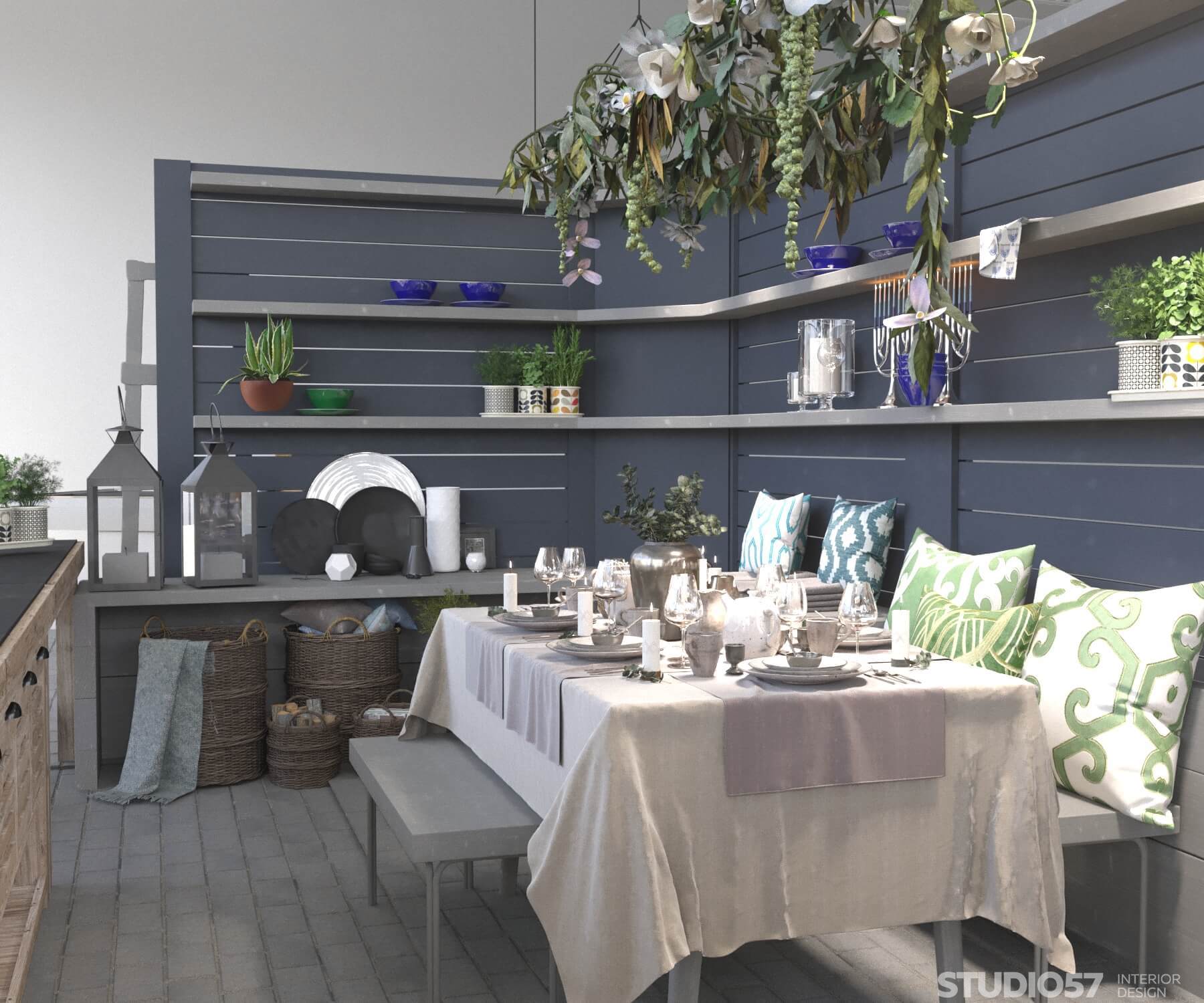 Visualization of goods. View 2.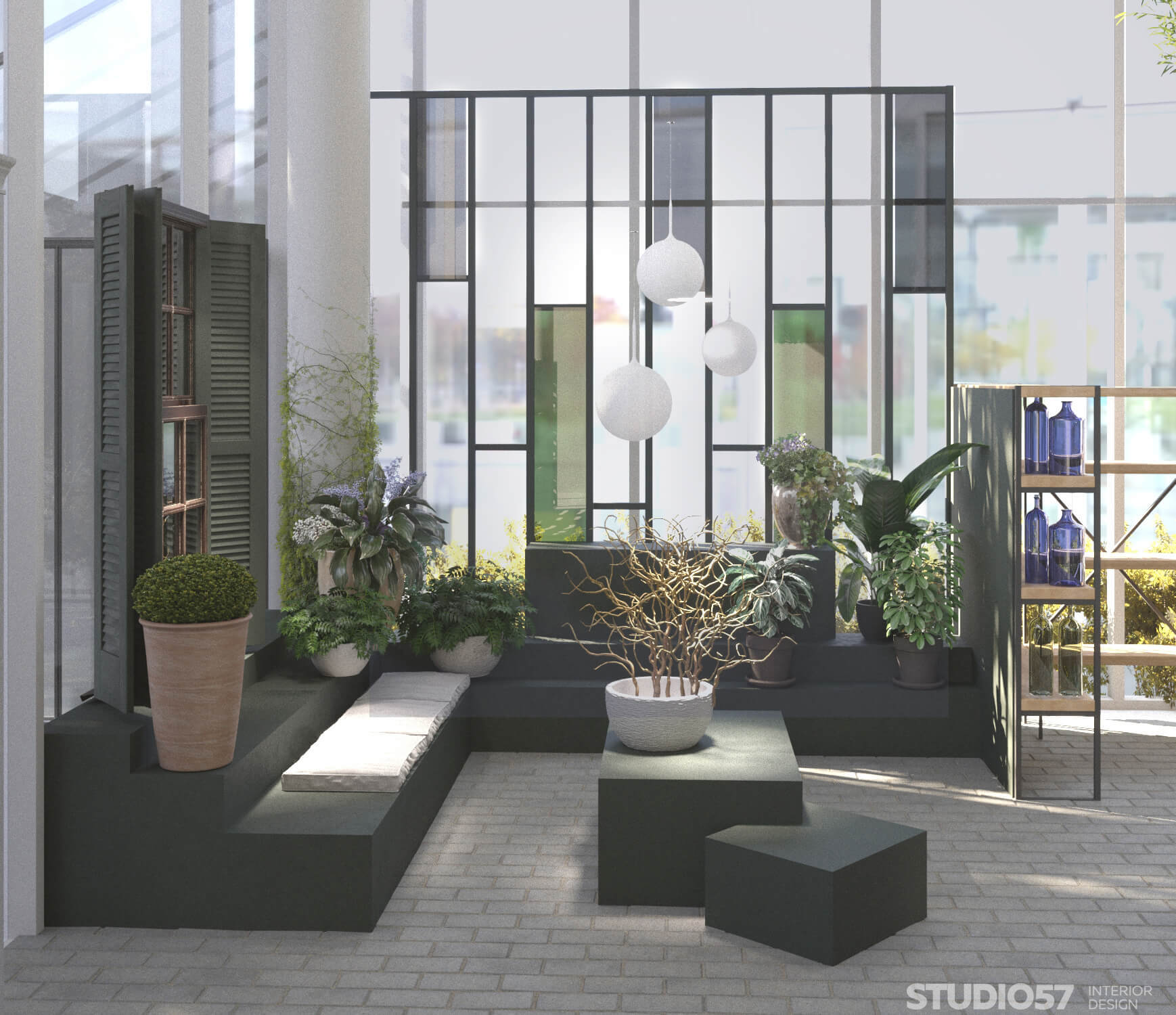 Visualization of the garden shop. View 1.
    Just due to competent zoning the garden shop is spacious and comfortable. Customers can take a break in the recreation area, stroll past different windows and immediately see how everything can be combined with each other. All these zones are covered with plants to remind the visitor that they are in his garden.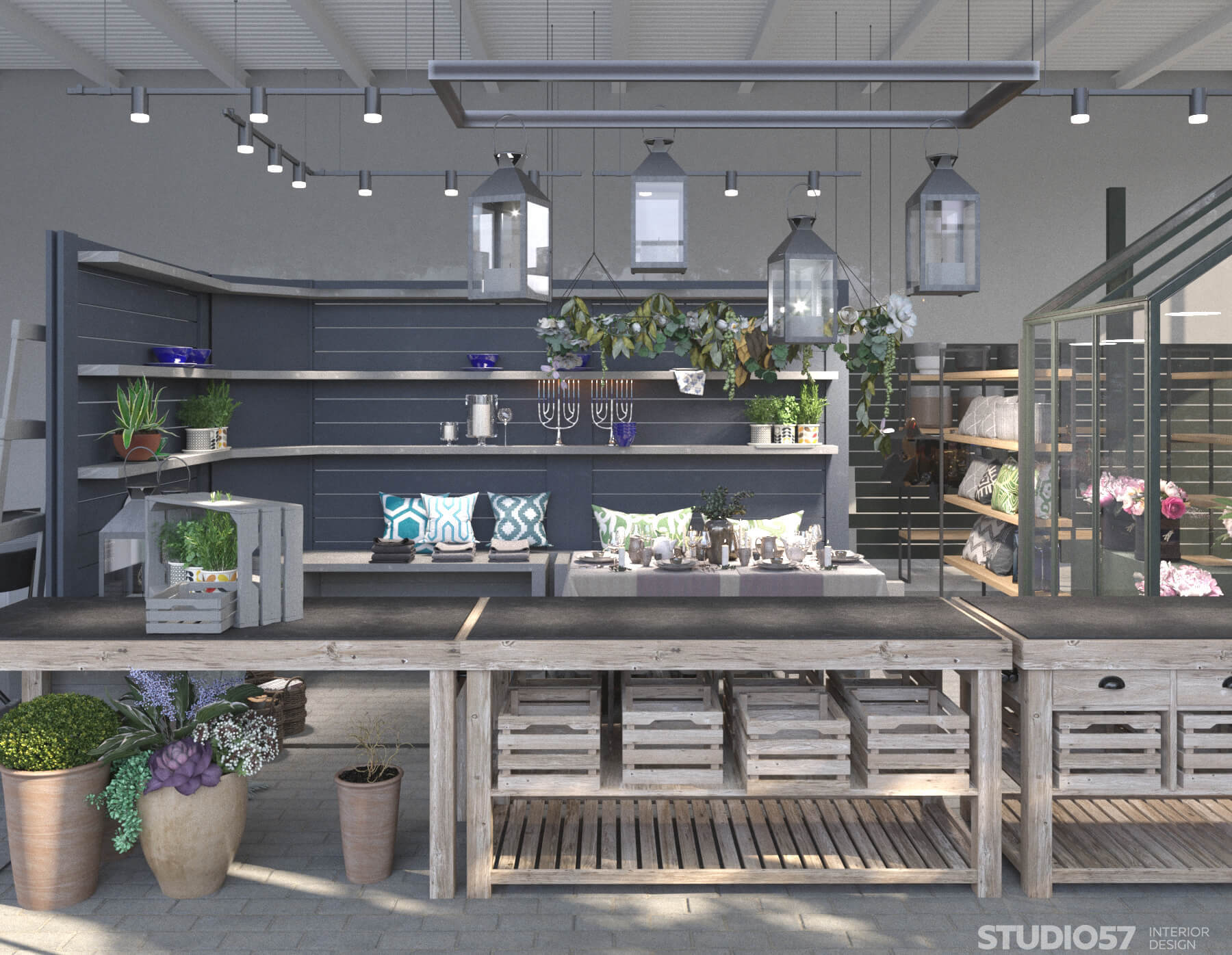 Visualization of the garden shop. View 2.
    In furniture stores it is fashionable to arrange the goods in the composition, as if it is a finished interior for a living room. Our designers decided that this is a great idea to decorate a garden shop, because when a person sees a whole picture, it is easier for him to understand how to use the product in his garden and, accordingly, buy it. In order to create such corners, special platforms with shelves are installed in the store, where furniture and other small decorative elements are placed.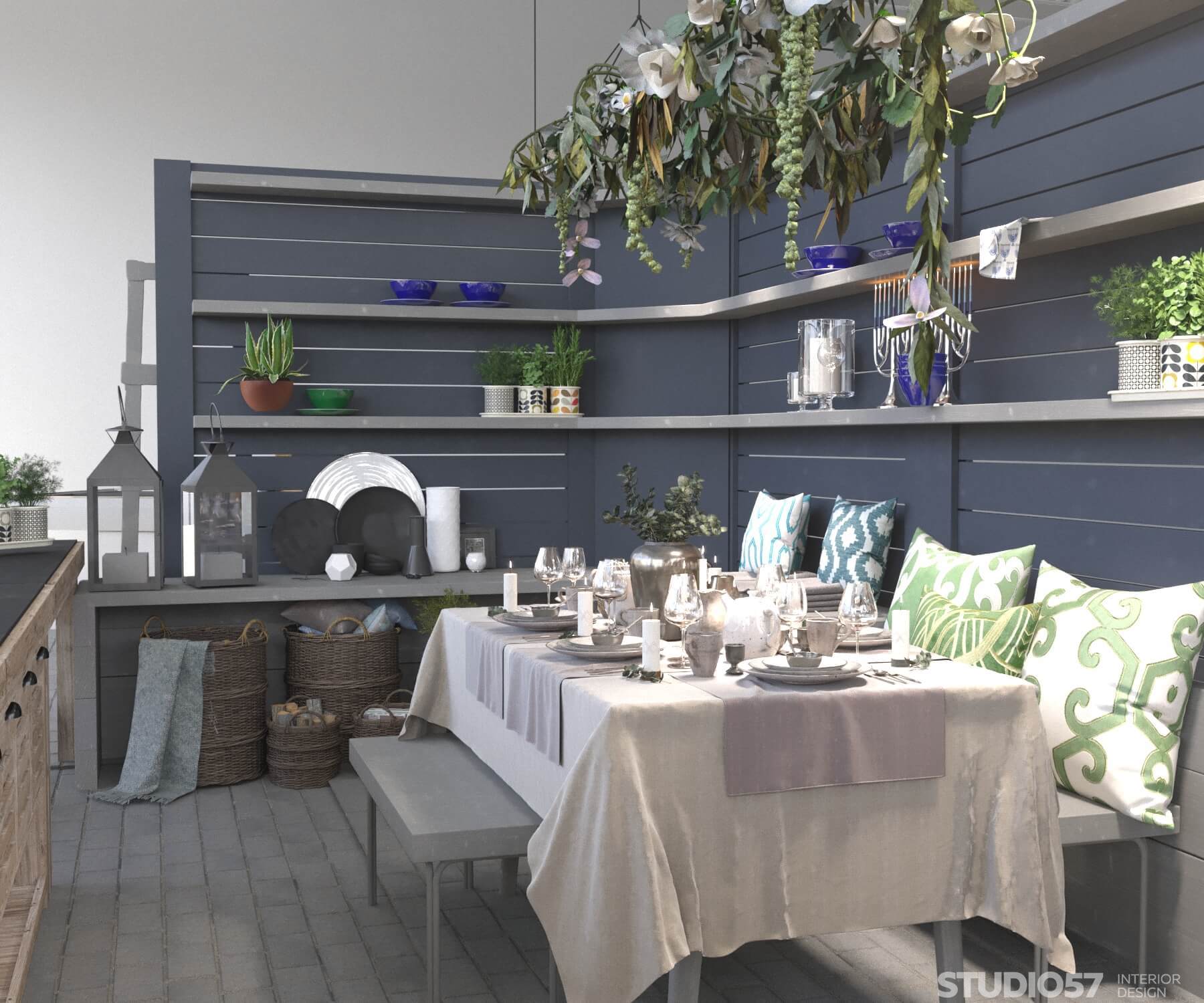 Visualization of the garden shop. View 3.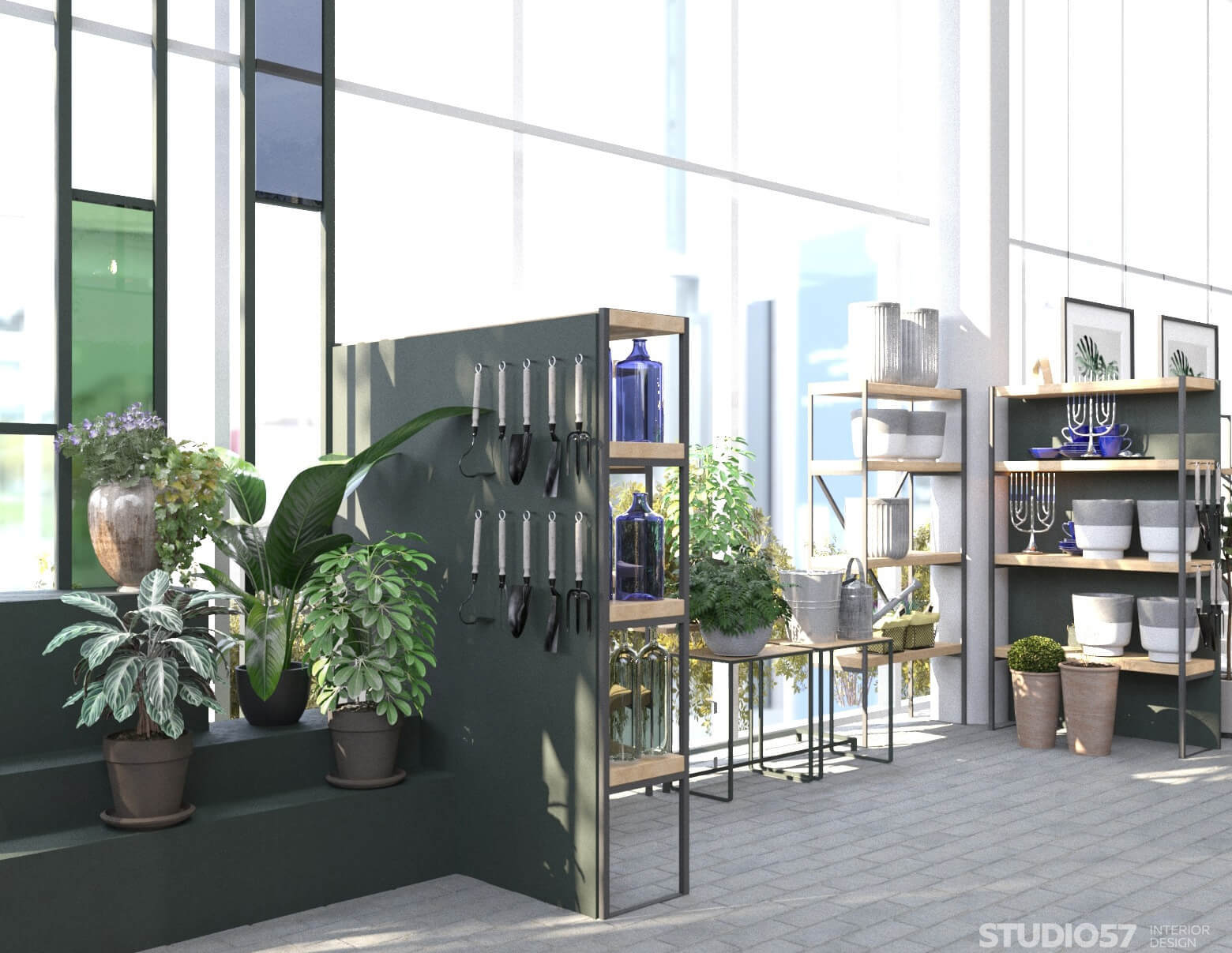 Visualization of the garden shop. View 4.
    Shelving with tools for the garden and decorative elements are on light wooden shelves, due to this they look stylish and attractive. In order to sell a product, it must be properly installed and illuminated, and natural lighting is just necessary for the life of flowers, so the shelves are located next to sources of natural lighting. In general, in such a room dark decoration is possible due to the large number of windows: everything is highlighted and does not look gloomy.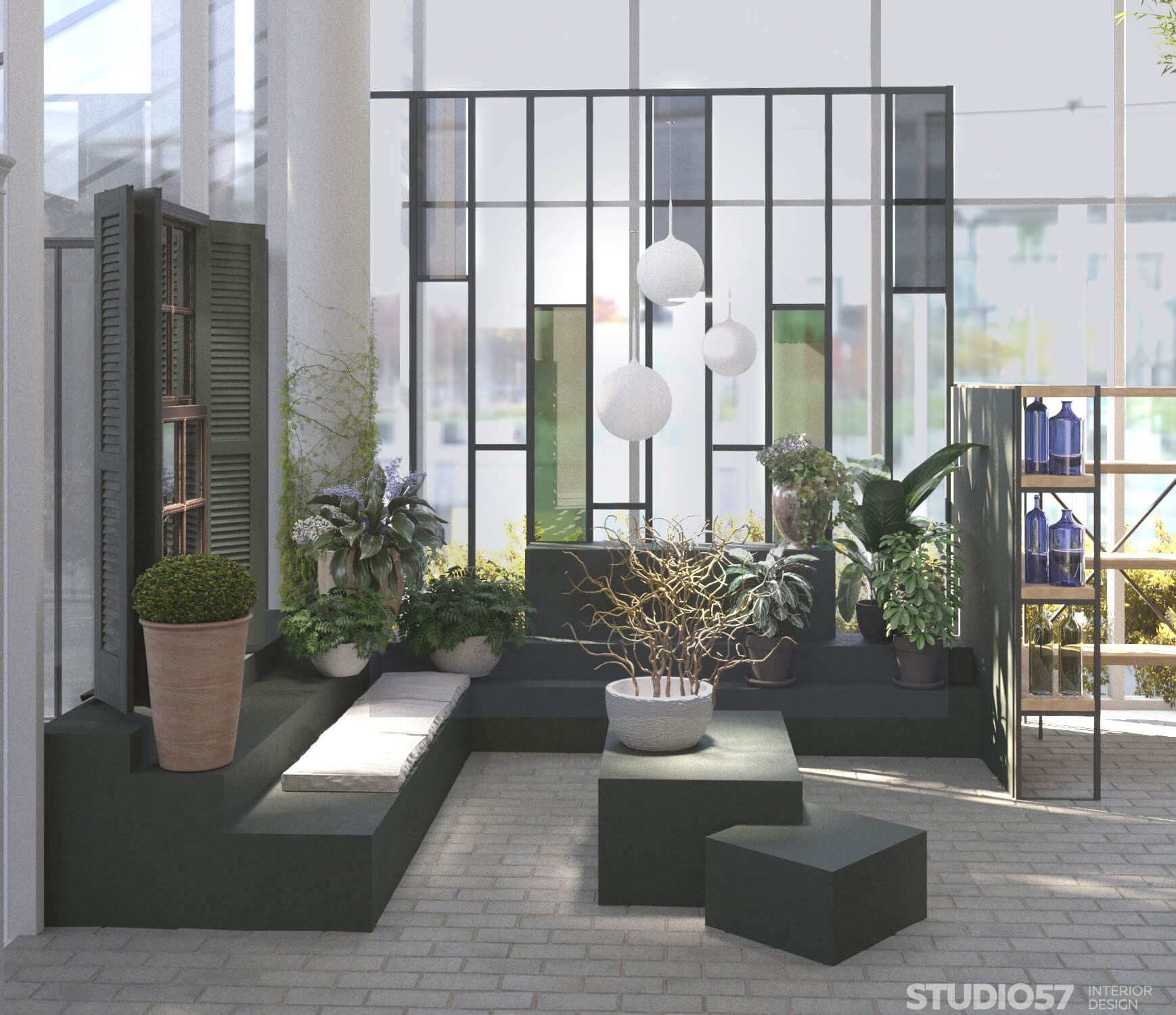 Visualization of the garden shop. View 5.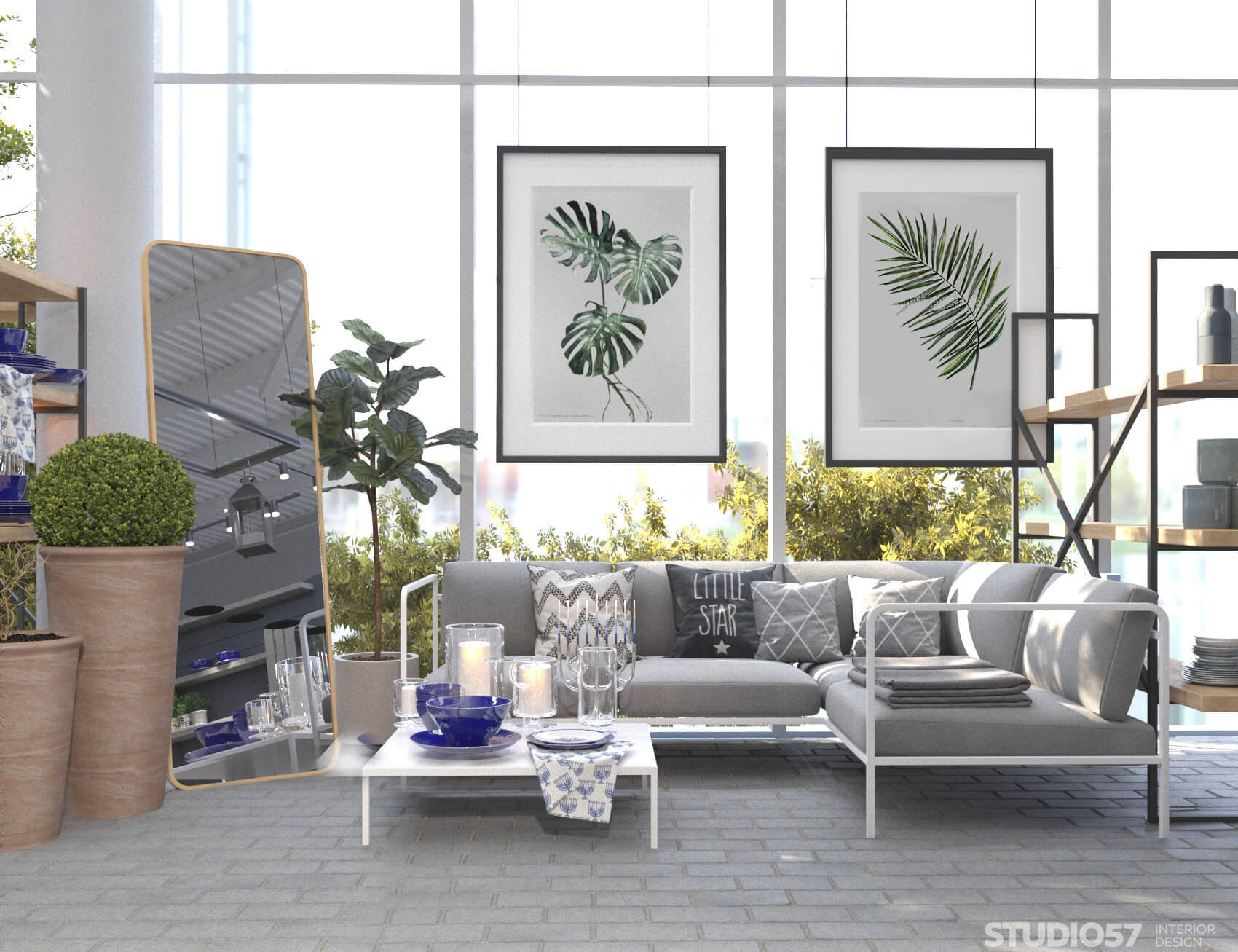 Visualization of the garden shop. View 6.
    It is important to be able not only to sell the product, but also to deliver it correctly. The client, when he enters the decor shop, wants to feel at home, but hopes to change something. Therefore, it is so important to create an atmosphere of comfort, so that at the sight of all the goods, the visitor will immediately have a trusting attitude towards your store. No one is interested in walking around the museum and just looking at the exhibits, a person needs to be shown how to use your products.
    Working with the retail design of the garden shop was very important for us, so we add it to our portfolio and are happy to share this fruitful work with you! We have implemented all the plans of customers in reality, and most importantly fulfilled their task – to make the store different from the rest. A store with a more expressive interior will be more successful compared to other competitors. You always want to return to such beautiful shops, because it is comfortably in it, and the product helps to make your life more beautiful and more convenient.
Единственные в РБ и РФ, кто делает это профессионально.
Реализуем то, что проектируем.
Разрабатываем дизайн магазинов для европейских брендов (Philipp Plein, Nike, Pandora, Christian Louboutin, Garmin)
Мы не передадим ваш телефон третьим лицам, только позвоним и подробно проконсультируем по всем вопросам, которые действительно для вас важны.